I like to look for canvases that fuse business, art and community in unexpected ways. Over the last 8 years,  I envisioned, curated and creative directed a collection of public art projects, including painted recycling containers for CSWD, art-spangled doors at Camp Ta-Kum-Ta, a mural at the King Street Center, painted sails at the Lake Champlain Community Sailing Center, a 3 block long mural on Outdoor Gear Exchange and a community mural on Ben & Jerry's flagship scoop shop.
Our Mountains Our Home | September 2018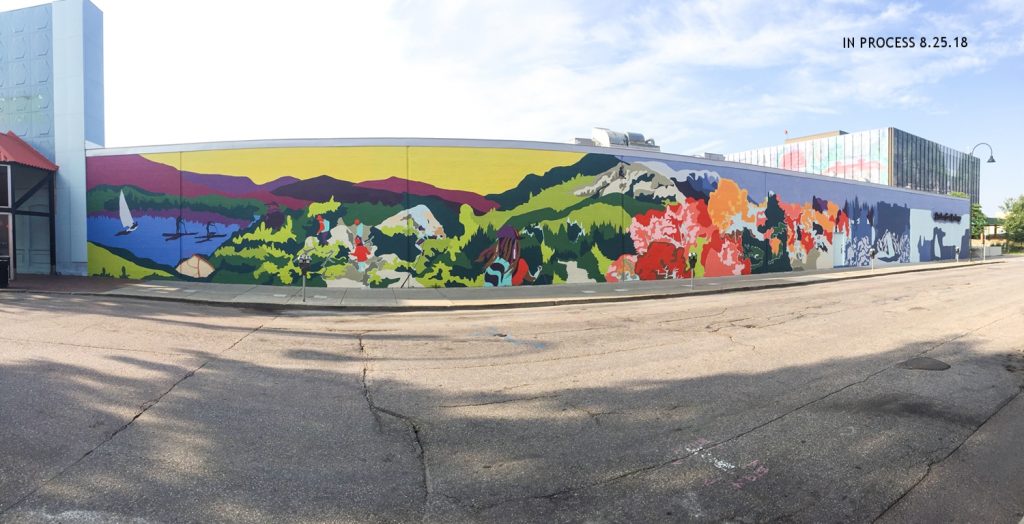 "Vermont artist Jess Graham has spent much of the month of August methodically covering a downtown Burlington wall with a colorful 206′ by 16′ mural. The Cherry Street project was commissioned by Outdoor Gear Exchange and it depicts open-air activities during all four seasons. After blocking out the design, community volunteers began showing up to help paint – about 40 people have participated so far. Organized by local art champion, Jill Badolato, 'Our Mountains, Our Home' should be completed by mid-September." – Eva Solberger, Stuck In Vermont
Read More
Above The Radar International Graffiti Festival | September 2017
VT's first International Graffiti Festival took place on September 15-17, 2017.  This was a collaboration of Anthill Collective and community sponsors. The mission of this event is to raise awareness and help to eliminate the stigma associated with graffiti as an art form. Our goal is to show the VT public that this is a legitimate modern art form and that furthermore it can be used as a medium for social change.
Read More
Art Of Recycling Mural Project | Jan-May 2015
Changing The Face of Recycling 
Chittenden Solid Waste District (CSWD), with a public art grant from Dealer.com, invited local artists to paint murals on eight of CSWD's 22-foot-long recycling containers to create a more beautiful, engaging recycling experience while drawing attention to our community's efforts to reduce waste.
Read More
Fork In The Road Food Truck | 2013-2017
Since 2013,  Fork in the Road food truck has served as a culinary job training program that successfully integrates classroom learning, community involvement, and real-life work experience for teenage students in the Burlington School District. Fork In The Road has become a National Model of Farm to School Programming.
Read More
"Floating Gallery" at Lake Champlain Community Sailing Center | May 2015-2016
"Concepted in 2015 by Jill Badolato, Director of Corporate Social Responsibility at Dealer.com, the Floating Gallery grant was designed as a way to give back to the waterfront community on a multi-faceted front and is a collection of artwork fusing public art and landscape on fully functional sails. Dealer.com's P.E.A.C.E. Mission (Planet, Eat Local, Arts & Culture and Employees) represents the company's unique approach to being a good corporate citizen.
Read More
"Inside Out" Silos at Dealer.com | September 2015
Inside Out is intended to represent the connection between Dealer.com and its surrounding community.  The content of the mural is inspired largely by the interior of the Dealer.com's building and the unique silo structure on which it is painted.
Read More
King Street Center "Learning Bus" | February 2015
King Street Center was thrilled to roll out a 2016 bus that will transport its kids – as well as those who participate at partner organizations – on great community adventures.
"Granting a bus that serves both as a means of safe transportation for the kids as well as a tool for mental and visual engagement (for both the riders and the passersby) has been rewarding to plan," says Jill Badolato, Director of Social Responsibility at Dealer.com.
Read More
King Street Center Entrance Wall | 2015
Created by former Burlington artist Scott Campbell the airy, 39-by-9-foot work is not a mural, per se, but a graphic design printed on laminated 3M vinyl paper and adhered to the wall. The newly re-opened King Street Center's entrance  wall looks as fun and inviting as a coloring book and as sleek as it's exterior as a result of it's $5.1 million capital campaign .
"Kids need to think about being future leaders," says Jill Badolato, corporate responsibility director at Dealer.com, which donated funding for the art wall. "This beautiful space says, 'I'm worth it.'"
Read More
Dealer.com "Art Walls" Program | 2012-2017
In 2013 I started Dealer.com's  "Art Walls" program in an effort to celebrate local artists, stimulate the creative economy and inspire innovative thinking in the workplace. The program facilitated over $182,000 of art sales, with 100% going directly back to the artists.
Camp Ta-Kum-Ta Portal Painting Project | May 2016

"Aptly named "The Portal Painting Project," the door-painting venture was conceived by Jill Badolato, who heads up Dealer.com's corporate responsibility program.  The petite power-house, who has organized employee volunteer days at Ta-Kum-Ta for the past three years, says she sees potential canvases everywhere. The drab doors of the camp cabins were just too good to pass up.
Read More
"Emblazoned Eagle Van" | Boys & Girls Club | June 2016
"The club's van, which transports members on field trips and takes them to tutoring, as well as provides a safe ride home in the evenings, had broken down. Upon learning of the need, Badolato knew she could offer Dealer.com's help by way of a grant to donate a vehicle.
Read More
A_Dog Williams Skate Park Mural | August 2015
During the 2016 festivities of A_Dog day the mural was unveiled at it's permanent home at the Andy A_Dog Williams Skatepark in Burlington, VT. "Painted with acrylic and ink on wood panel, the untitled mural is being installed by the Burlington Parks, Recreation & Waterfront department and will be protected with a Plexiglas cover. Furchgott Sourdiffe says the mural was made possible by a grant from Dealer.com via Friends for A-Dog."

Read More
Dealer.com Café "Farm-To-Desk" Murals | October 2015

The Dot Calm Café serves as a place of nourishment, community lounge, and backdrop for many inspired conversations. This work seeks to create an appealing atmosphere as well as bring elements of our natural landscape indoors with an emphasis on making the architectural space feel more permeable. It's also driven by being informative.
Read More
Dealer.com Manhattan Beach Office Installation | November 2014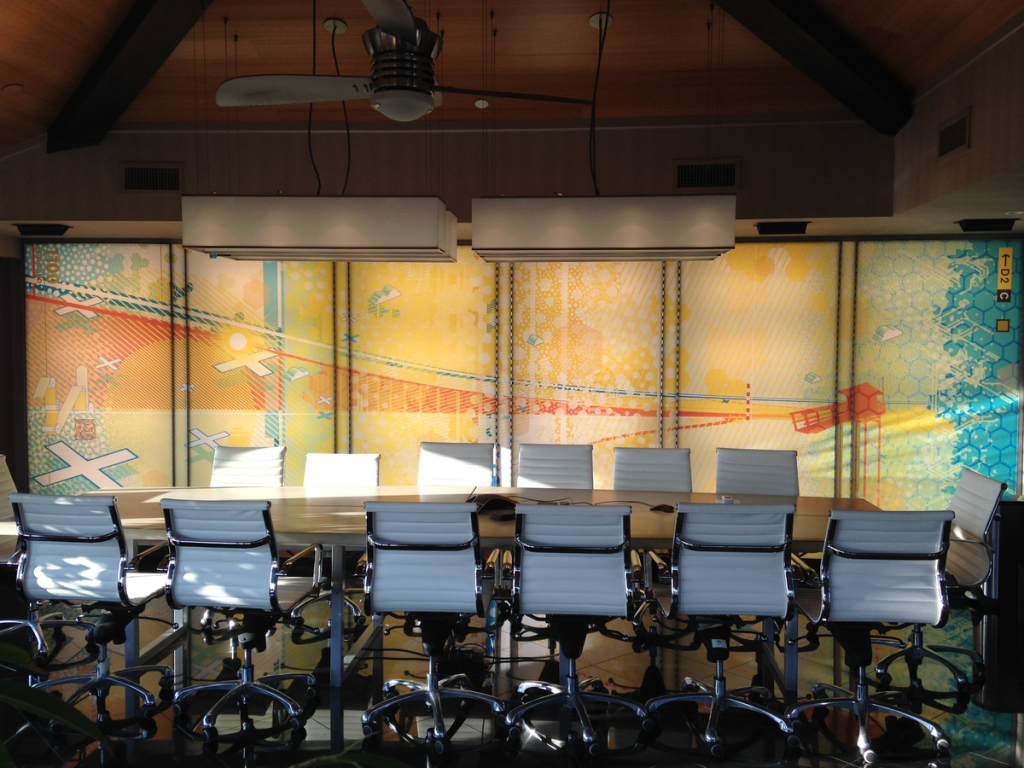 This full color wall graphic seeks to incorporate the Manhattan Beach visual environment and the dynamism of DDC's personality. The piece is a fusion of technology and landscape, creating a backdrop for creative thinking and innovative conversation.
Read More
"Dealer Art Hop Event" | September 2012-2017 September
Art Hop is an annual arts event that takes place on Pine Street in Burlington, Vermont attracting over 30,000 visitors from across the northeast and Canada. From 2012-2017, I curated and managed the largest event in the festival featuring the unveiling of "Inside Out Silos", "The Color Of Community- Fused Art Grants", "Crazy Town Duplo Table" and "DDC Full STEAM Ahead". 
"Burlington Mardi Gras!" | February 2015
What better way to celebrate a community event than including your mobile grants in the parade.  The Fork In The Road and King Street Center kids wore their pride and glow while rolling or marching down Main Street while the CSWD Recylcling containers spread their message of "Changing The Face of Recycling" with their larger than life presence.
 "LOOK UP!" | South End Artists Collective | September 2014
The South End Artists Collective is a community art project created for Art Hop 2012.  Eighty-Seven local artists contributed. Stop by Shy Guy Gelato and LOOK UP!